19 June 2008, admin @ 8:39 pm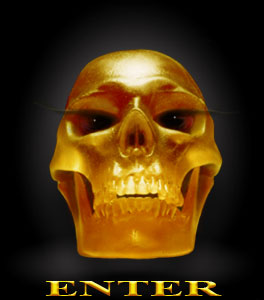 What more sure sign of life could there be other than BONE! What greater evidence of intelligence than a SKULL.
Mankind's imagination has reflected the … since pre-history through all cultures into the contemporary of today.
The thread here is an exploration into the fascinating realm of basic, lost wax casting techniques, employed to Kiln Cast Lead Crystal Glass.
In the following days a pictorial record will be posted illustrating the elementary stages of Kiln Casting Small Lead Crystal Skulls. Starting with the wax model, making the plaster mold, dewaxing, calculating volume, kiln firing, cleaning and finishing.
2 Comments to "A WELCOME to SKULL ART"
Chrystal — June 26, 2008 @ 9:27 am


Hey Donn, such a "Cool Skull Site." I love it along with your other on line galleries of the masterpieces of our realm.. Especially donnsaltcom. That says it all really. Well maybe not. Talking about masterpieces, don't forget you now have Jademasterpieces.com registered as a site. All other viewers, watch this space!! See what evolves from that.
Your's Truly
Chrystal

heywilli — January 7, 2010 @ 3:24 am


Hi there; As a glass caster myself but always learning, I just want to say you did a fabulous job with not only your written documentation but with your photographic documentation on the whole process. Kudos to you! Nice skulls!
Write a comment
You need tologin.